Today, we're thrilled to announce the launch of ClassHook Premium!! 🎉🎉🎊🎊
ClassHook Premium is a new subscription plan that is packed with features designed to help you more quickly and easily find clips specific to your lessons.
Before I dive into ClassHook Premium, you might be wondering about our free plan. Yes, you can still use ClassHook entirely free, with all of the same features you enjoyed before! Our entire library of clips will be available to both Free and Premium users, though Premium users will have more search and discovery features.
With that cleared up, let's highlight some of the new features of ClassHook Premium.
1. Decade Filter
ClassHook Premium comes with a decade filter, making it a breeze to find clips from series that your students will recognize. Tailoring to a young audience? Then clips from the 2000's and 2010's might be most recognizable to them. Teaching a more mature audience? Clips from the 70's and 80's will be easy to find! This filter is available on both the search page and the Browse All Clips page.
2. Standards Filter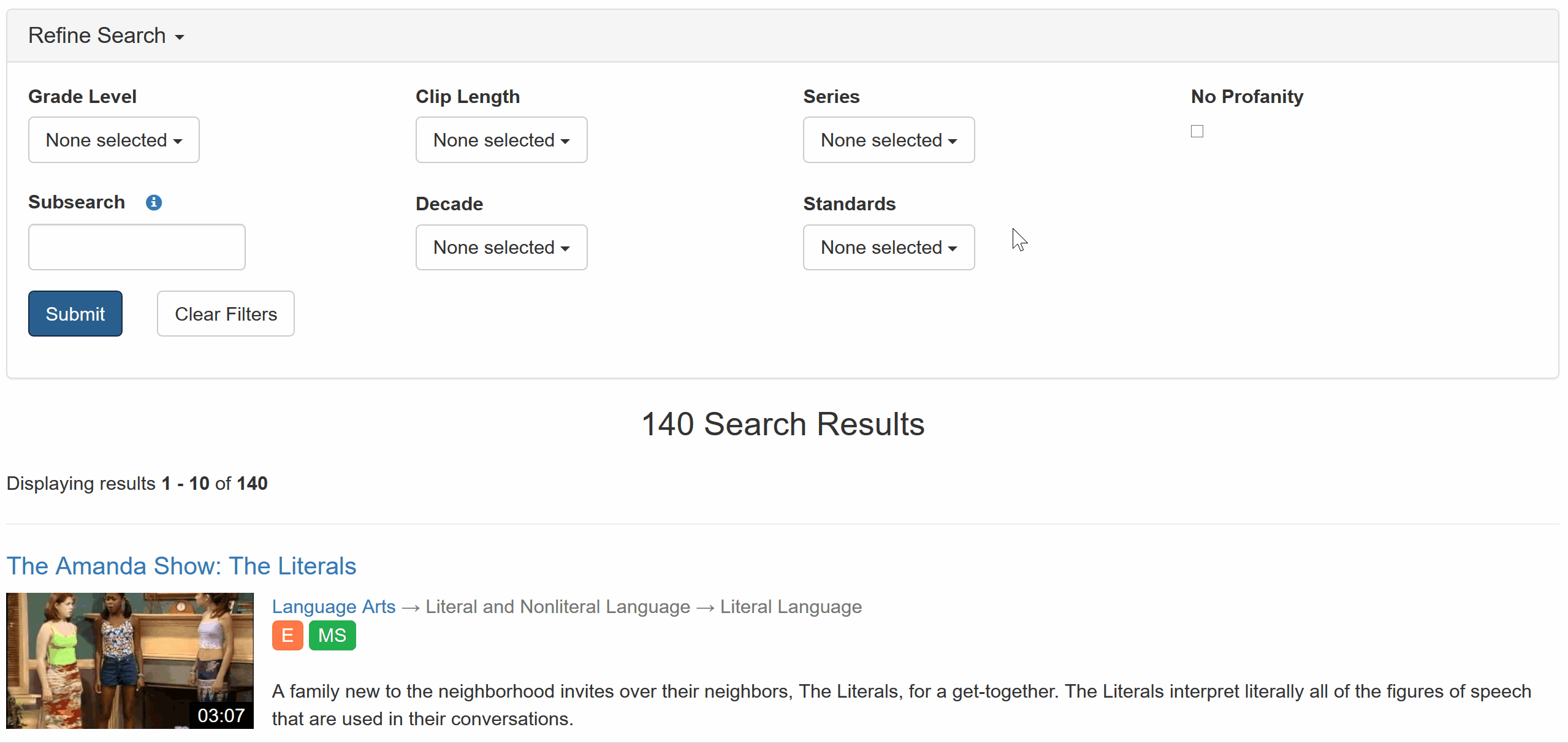 ClassHook Premium also includes a standards filter, making it easy to find clips in your search results that align with a particular standard. You can either enter the standard's code in the search box or scroll through the list. Since they teach a variety of topics, not all clips will align with a particular standard. This filter is also available on both the search page and the Browse All Clips page.
3. Browse clips by standard alignment
Want to find clips another way? The Clips by Standard page allows you to easily find all of the clips that align with a particular standard.
4. Playlist Search
Now you can discover playlists that other educators have created. Want to know which clips they're considering for a particular topic? Just change your search to a Playlist search, and enter your query. Note that only public playlists will be shown, and official playlists will be omitted.
5. Playlist Collaboration
Collaborating with others on playlists is now possible with ClassHook Premium. All you need to do is create a playlist and send an invite link to those with whom you'd like to collaborate. The people you invite do not need to have ClassHook Premium but will need a ClassHook account. You can remove collaborators at any time and also deactivate the link so that new collaborators will not be accepted.
6. Request Subtitle Improvements
Our subtitles are automatically generated, and while they're often pretty good, sometimes there are cases in which "pretty good" doesn't cut it. With ClassHook Premium, you can request a human to perfect the subtitles to FCC and ADA compliance standards. You'll be given 15 subtitle requests per year as part of your subscription. Note that this feature is supported only for clips in English at this time.
7. Priority support on clip requests
While there's no nice animation to show for this feature, whenever you submit a clip request, we'll bump your request up in the queue so that it will get fulfilled much more quickly.
---
This is a quick overview of what you'll receive with a ClassHook Premium subscription. We have more features already in the works, so stay tuned about those.
Now you might be wondering how much this all costs. $20 a month? $30 a month?
Nope! ClassHook Premium costs only $40 a year, or $3.33 a month! And you'll be supporting other teachers with your purchase, as we're donating $1 of every ClassHook Premium purchase to DonorsChoose campaigns in need of funding.
Head over to our website to get started with ClassHook Premium today!
Happy clip finding,
The ClassHook Team
Editor's Note: July 20, 2018
This post was updated to reflect a change in ClassHook Premium's annual price. It previously read $25.