What is the Playlist Collaboration feature?
We are excited to provide you with new ways of collaborating with other educators. Playlist Collaboration is a new feature that allows you to build video playlists with other teachers. The people you invite do not need to have ClassHook Premium but will need a ClassHook account.
How do I get started collaborating on playlists?
If you aren't familiar with creating playlists on ClassHook, see the article here.
Once you have created a playlist, you can locate it in your profile.
Click on the name of the playlist you'd like to share with other educators.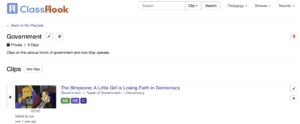 From the playlist's page, locate the "settings" icon to the right of the playlist's name.
Here, you will see a popup for a shareable link, copy the link and send it to any educators with whom you'd like to collaborate with.
Now the fun begins!
Once you've decided the type of playlist you want to create and with whom you'd like to share it with, you can begin building the perfect playlist for your class. If you or any of your collaborators find a great video, simply click on the "Add to" icon directly below the video to add it to the playlist.
You can also choose to deactivate the link at any time to prevent new people from adding clips to the playlist.
Why use this feature?
We believe that this feature will allow you to share clips more effectively with other educators. With the ability to build playlists together, you can collaborate more closely with colleagues to find amazing clips for reinforcing key concepts and piquing student interest.
Read about some of the benefits of collaborating with other educators here!
---
We hope that you enjoy this new feature and the other features introduced in ClassHook Premium! You can learn about all the new features here.
Please feel free to contact us with any feedback about ClassHook Premium. We'd love to hear what you think about these exciting new features and how we can improve your experience on ClassHook!