Did you know that by watching TV, you are actually learning? In Avatar: The Last Airbender, viewers can learn prosocial behaviors and traits through the protagonist, Aang. His interactions with the other characters, how he resolves conflict, and his ability to find joy in everything are a few examples of how Aang is a model for Social-Emotional Learning. At ClassHook, we've identified the lessons that Aang can teach us all.
Quick Synopsis: Avatar: The Last Airbender is an animated coming of age show about a young Airbender named Aang who must master all four elements (water, earth, fire, air) as he embarks on a journey with his friends to restore peace to the world and follow his destiny as the Avatar.
Social-Emotional Learning (SEL) is understanding interpersonal and intrapersonal connections in order to make friends, resolve conflict, and learn more about themselves, and is a key foundation of students' growth and emotional development. Students learn the tools for SEL in a variety of ways through their experiences interacting with others, problem-solving, and following character growth in television shows and movies. Avatar: The Last Airbender's main character, Aang, is an excellent model for SEL because he demonstrates important traits and attributes such as being non-judgemental, a loyal friend, determined, and accepting of differences, which he shows through his fun-loving personality.
Through Team Avatar's adventures, social acceptance is exemplified as the characters learn to accept what makes them unique and use their skills to help each other. For example, Aang's friend, Sokka, does not have any element bending abilities but he is still a vital part of the team and is never left out. Aang also saw Toph as a talented earth bender and chose her to teach him earth bending despite her blindness. Aang accepts and is willing to help everyone he encounters.
Here are some moments from Avatar: The Last Airbender that you can use to teach SEL and social acceptance to your students:
Key concepts: sacrifice, empathy, reassurance, conflict resolution
Here Aang sacrifices himself by becoming Zuko's captive to protect the water tribe. He shows empathy because he understands that the water tribe lives in fear of the fire nation and reassures them that everything will be okay. Aang wants to deescalate the situation before any more damage is done.
Aang and Empathy for Animals (S2 E15)
Key concepts: helping others, critical thinking, problem solving, caring, empathy
In an attempt to help the zoo keeper move his animals to the prairie, Aang sets the animals loose. He uses his problem solving skills to wrangle the animals outside of the city and uses his earth bending to construct a more spacious zoo for the animals to enjoy.
Key concepts: empathy, forgiveness, understanding, dealing with grief
In rage, Katara wants to take Appa to get revenge on the man who killed her mother. Aang tries to convince her to forgive the man. He empathizes with her about how he felt when Appa was stolen from him and when the fire nation exterminated his people.
Aang and Keeping an Open Mind (S1 E5)
Key concepts: friendship, teamwork, thinking outside the box, appreciation
After solving all of Bumi's challenges, Aang feels more open minded to possibilities. Bumi reveals that he is Aang's childhood friend and advises him that he needs to work with his friends in order to defeat the Fire Nation. This clip also shows how friendships can remain through time.
Aang and Self Expression (S1 E14)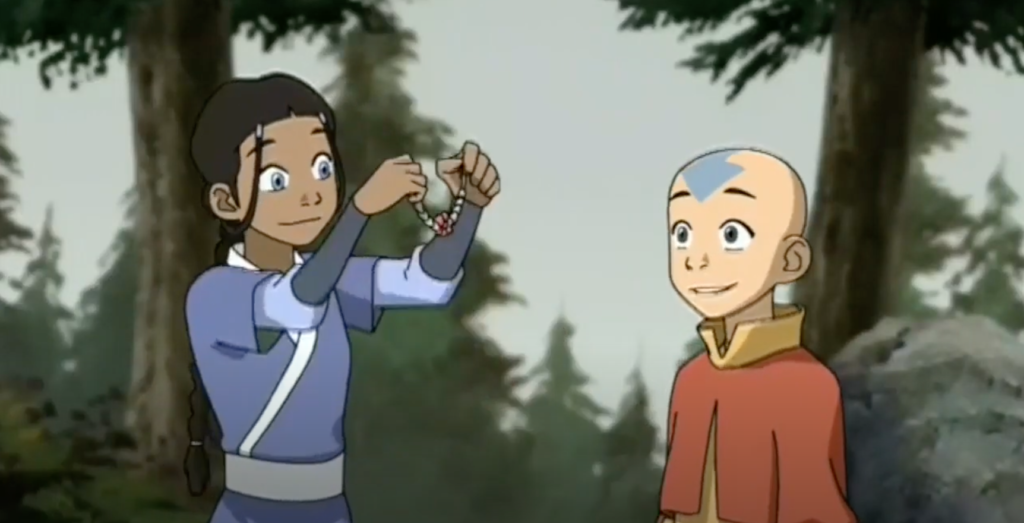 Key concepts: creativity, caring, thoughtfulness, empathy, expressing yourself
Since Katara lost her necklace, Aang weaves a necklace to cheer her up. Despite being teased for his hobby which in Sokka's opinion is seemingly girly, Aang expresses that there is no reason that he shouldn't be able to both save the world and do what he loves.
As Avatar: The Last Airbender continues to break Netflix and viewership records, it's important not to lose sight of the lessons about empathy and social acceptance that Aang instills in all of us. To celebrate the revival of Avatar: The Last Airbender, our team at ClassHook is curating and adding clips from the show to our library of educational videos. Be sure to check back to our social-emotional learning library and search for Avatar: The Last Airbender often for more clips! Also, check out our use cases for more ways you can utilize our clips to engage your students.