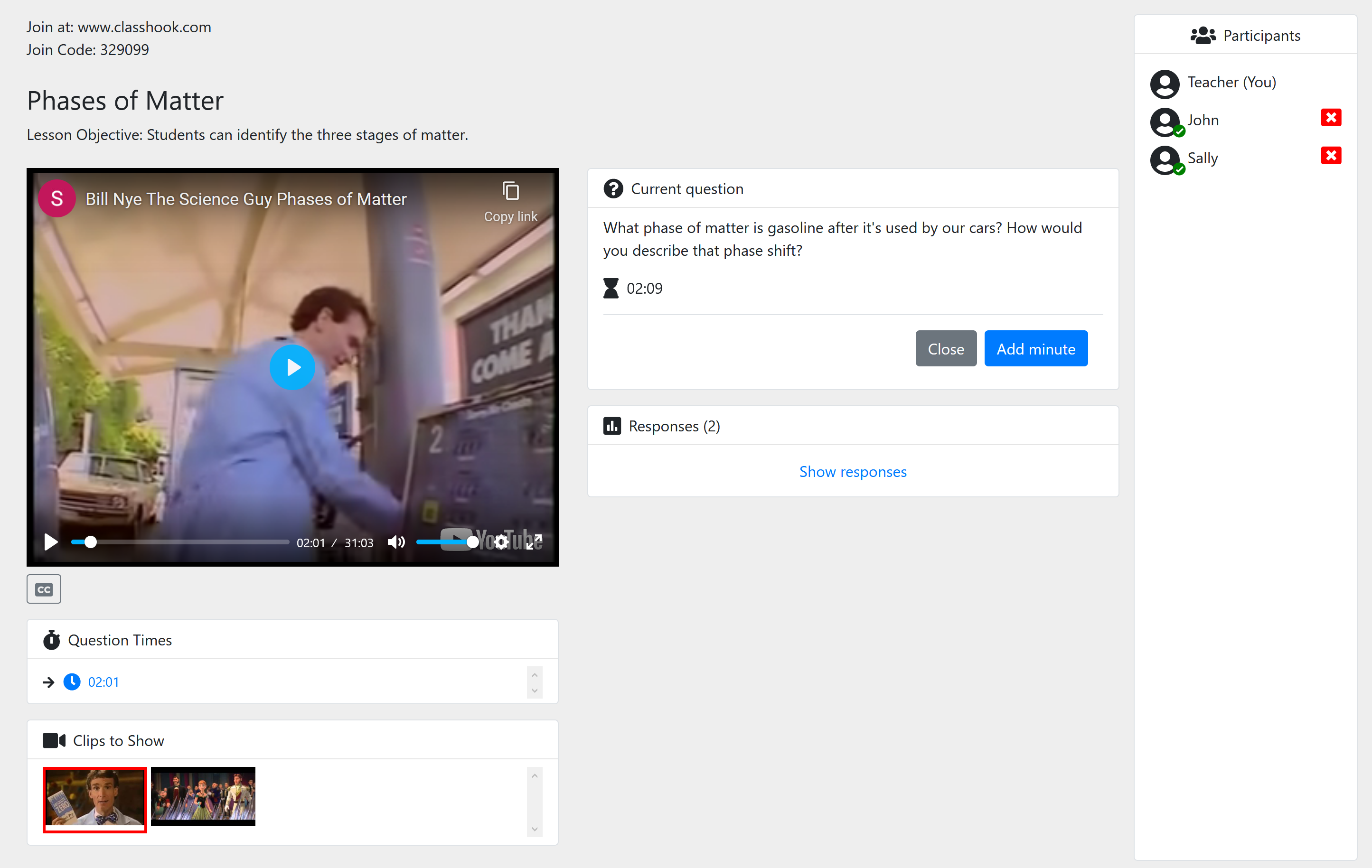 Related Guide: How to Create Live Discussions on ClassHook
When students have the opportunity to analyze media and participate in discussion around a topic, they learn more effectively. At ClassHook, we've been hard at work creating a better way for you to conduct discussions with your students. We read over your feedback, and after 15,000 code changes, we're thrilled to announce our updated Live Discussions experience!
We've streamlined the entire experience of setting up a discussion on ClassHook, from creating the discussion to posing questions to your students.
Updates to the Experience
A dedicated experience. Discussions were previously conducted while viewing a clip, which is convenient but contained many distractions. There was a lot of other information competing with your discussion.
No more links! Instead of generating a link and sharing it with your students, you will share a short code with students that they can enter on their devices. We heard from you that sometimes there's no good way to share a link, and this new setup makes live discussions more accessible to more teachers and students.
Smoother discussions. No more switching between clips. Get your entire class in the discussion once, and show multiple clips in succession without leaving the page.
Student controls. Automatically generate nicknames for students that join the discussion, hide specific student responses from the class (especially inappropriate ones), and remove students from the discussion (hopefully you won't need to).
Easily track who participated. Students who've answered the current question will have a green check mark next to their name. With a quick glance, you can see who has submitted an answer and who still needs more time.
Who can use Live Discussions?
All users of ClassHook can use the new Live Discussions experience immediately. Free Teacher users will be able to create up to 3 discussion rooms and set 1 pause prompt per clip. Premium Teacher users can set up unlimited discussion rooms and questions per clip.
---
We're excited to learn how you use the new Live Discussions experience and our videos to teach, engage, and inspire your students. To get started, check out our step-by-step guide: How to Create Live Discussions on ClassHook
As always, feel free to reach out if we can help in any way.