"Looking for great movies for Biology!"
As an educator, have you ever seen or written a message like this on social media? In the replies are often movie titles and vague recollections of scenes from TV shows. It's not that the suggestions aren't relevant; it's that they're often not specific enough. Even if you learn that The Founder is a great movie for teaching entrepreneurship, which specific parts can you use? Your time both inside and outside of the classroom is valuable, and you may not have the time to sift through movie scenes or show the entire movie in class.
Introducing the Movie Recommendation Tool
At ClassHook, we specialize in helping educators teach using TV shows and movies. Today, we're excited to announce a Movie Recommendation tool that leverages data from over 6,000 educational scenes from your favorite titles to suggest which ones are well-suited for teaching the topics you'd like to cover.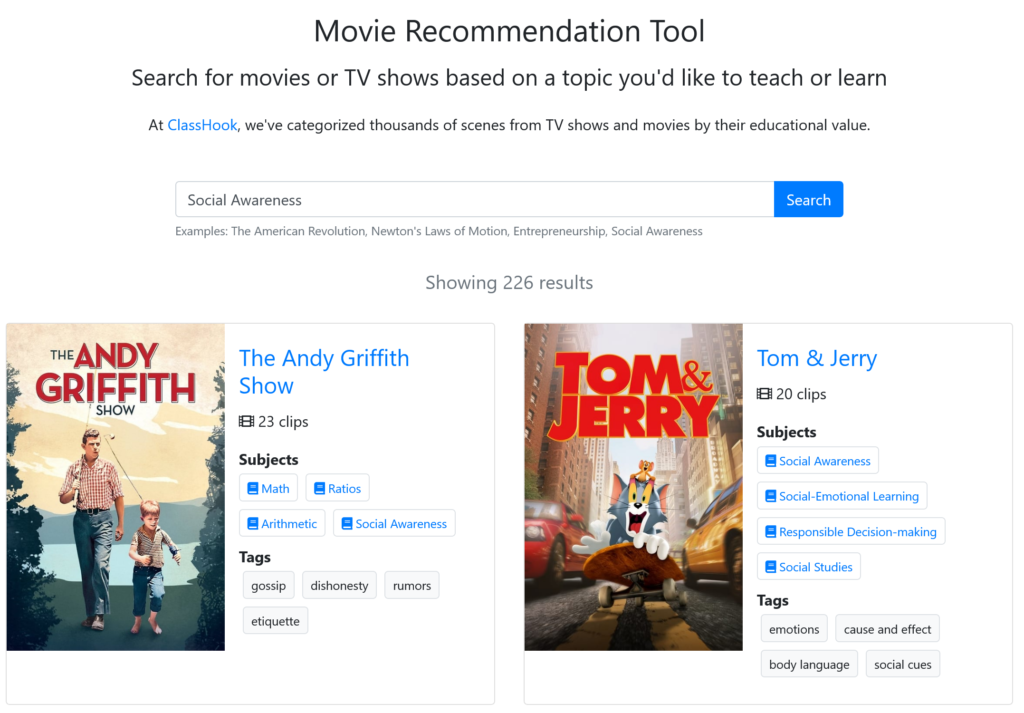 The Movie Recommendation tool also gives you more details about each title, such as the number of clips it has on those topics, the subjects that the title can be used to teach, and specific concepts that the title can be used to teach.
Clicking on the title will bring you right to clips that can teach your desired topic
Besides just having the titles, you can skip all of the sifting and filtering and leverage ClassHook's search feature to find short clips from that specific title that teach your desired concept. Our team knows this will be a huge time saver for many educators and homeschooling parents who are continually looking for different and interesting ways to teach their students.
The Movie Recommendation tool is available to everyone, whether you're a ClassHook user or not. Try it out at the link below, and let us know what you think. We can't wait to see what lessons you create.
Link to Movie Recommendation tool: https://www.classhook.com/movie_recommendations